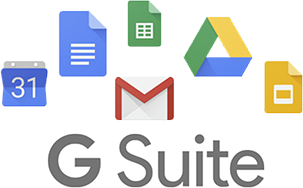 An integrated workspace that's simple to use, Google Workspace lets you spend less time managing your work and more time actually doing it.
What is G Suite?
G Suite is a powerful suite of online tools – 100% web – for messaging and collaboration that meet the fundamental needs of the company, increase productivity and reduce costs, all these tools are hosted in Google's high security and availability infrastructure, no hardware or software is required and only minimal administration is required, with this you can save a lot of time and reduce costs for your business
G Suite enables secure, real-time collaboration between workgroups of any size.
With hosted documents (word processing documents, spreadsheets, and presentations), web-based video access, and easy site creation tools, information is available from any browser or smartphone, whenever and wherever workers need it.
SAML-based Single Sign-On (SSO) services seamlessly integrate with existing authentication and security systems.
G Suite brings secure and easy productivity to any workgroup without the need to add additional hardware or software.
G Suite offers the following benefits:
Support via email and telephone 24/7 direct with Google

Proven cost savings.

99.9% availability guarantee with synchronous replication.

50 times more email storage than the industry average. No need to delete emails as there is 30 GB of email storage for each employee.

Interoperability with Microsoft Outlook and BlackBerry.

Access to IM, calendar and email applications from cell phones.

Industry leading security.

Full administrative and data control.

Helpful support options.
G Suit offers the following products:
Gmail for business.

Google Calendar.

Google Docs

Google Drive

Google Site

Google apps vault

And much more
Ready To Get Started with G-Suite?
Need assistance or just want to get in touch with us? Feel free to contact us in Live Chat or Support Section.